5kg Bromine Tablets for Hot Tub
Use our 5kg Hot Tub Bromine Tablets to rid your spa of bacteria and algae.



Ideal Bromine Range: 3-5mg/l

These Bromine tablets are ideal for daily dosing of your spa, to produce active bromine which kills bacteria and other potentially harmful organisms. They are rapid dissolving and have minimal impact on pH
20g Bromine Tablets

Slow dissolving sanitiser

Effective over a wide pH range
How to apply Bromine Tablets for your Hot Tub:
1. These tablets are designed for use with bromine feeders and floating dispensers.
2. When feeder device requires refilling with tablets always follow manufacturer's instructions.
3. Ensure tablets used in the feeder are of the same chemical (Bromo-Chloro-Dimethyl Hydantoin). If other materials have been used previously, wash out feeder thoroughly before adding tablets.
4. Adjust feeder to ensure a constant bromine residual is present in the spa.
5. Check bromine levels regularly with a Test Kit and maintain a bromine residual of 3 – 5 mg/l (ppm) for domestic spas and 4 – 6 mg/l (ppm) for commercial spas
6. Check pH value regularly with a Test Kit and maintain levels between 7.2 - 7.6.
7. It is recommended that you periodically shock dose your spa with Spa Oxidiser Sachet or Non Chlorine Shock
Note: Freshly filled new spas or spas left drained for a period of time require an initial start up dose of 50mg/l (ppm) of free chlorine circulated for a minimum of 1 hour.
Does this sound like the product for you? Order online or speak to a member of Premier Hot Tubs to find out more our team of hot tub experts are on hand to help with your queries! . You can send all of your queries to sales@premierhottubs.co.uk or call us on 01603 45 45 45
Delivery of Goods to you
Orders placed on weekends or bank holidays will be dispatched on the next working day.
Our shipping options for this item are:
Express delivery (1-2 days)
We will deliver the goods ordered by you to the address you give us for delivery at the time you make your order.
We endeavor to dispatch all items within 1 working day, we rely on the postal services of DHL, Evri, and other couriers, in some small cases a delay can occur, and therefore we cannot guarantee 100% your item will arrive within the times stated so these are a guide only. If there is a delay the courier will always try to deliver the following day.
All our deliveries will be tracked and your tracking number will be emailed to you so you can track, rearrange and manage your delivery on the go.


Ask a Question
5kg Bromine Tablets for Hot Tub
£84.99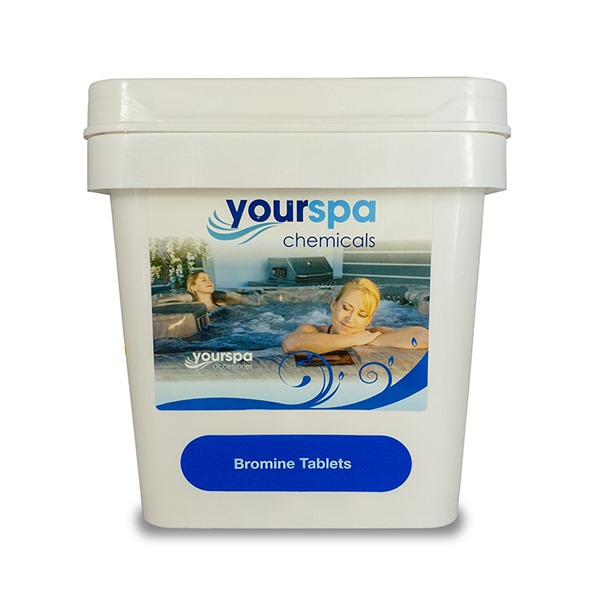 Request a Call
5kg Bromine Tablets for Hot Tub
£84.99