5kg Hot Tub Non-Chlorine Shock by Yourspa
Regardless of which sanitizer system you use, periodic shocking is essential for clear, clean hot tub water. Use this 5kg Hot Tub Non-Chlorine Shock today!



What is shock treatment?

Shocking a hot tub spa is the application of an ample dose of chlorine (sodium dichlor) or non-chlorine shock (potassium monopersulfate or MPS). One purpose of this treatment is to break-down organic waste contaminants which cause odor and cloudy water. After treatment, water quality and clarity is often completely restored.

If irritating chloramines are present, shocking also converts them back to active chlorine. If bromine sanitizer is being used, shocking activates the bromide ion (which by itself has no disinfecting capability) which becomes hypobromous acid in water, a good sanitizer. Both of these shocking products are 100% compatible with the alternative sanitizer systems that we offer.

Regardless of which sanitizer system you use, periodic shocking is essential for clear, clean hot tub water. It will also allow your sanitizer to perform at peak efficiency:
Restores water sparkle
Destroys swimmer wastes
How to apply this 5kg Hot Tub Non-Chlorine Shock:
1. Maintain pH levels within the ideal range 7.2 – 7.6. If the level is not in this range, adjust.
2. Maintain free chlorine levels in the range pools: 1 – 3mg/l (ppm); spas 3 - 5mg/l (ppm). Maintain bromine levels in the range pools/spas: 3 – 5mg/l (ppm).
3. Pre-dissolve this product in a clean plastic container at a maximum rate of 100g of product of 2.2 gallon (10 litres) in water. Stir well to ensure product is fully dissolved. Add the resulting solution to the pool or spa whilst the pump (s) are turned 'on' preferably near the water inlets to aid distribution.
4. After shock treatment procedure, allow at least 30 minutes before bathing recommences.
Dose rates
Litres Gallons Dose rate
1,000 220 11g
2,000 440 22g
4,545 1,000 50g
22,700 5,000 250g
45,450 10,000 500g
Does this sound like the product for you? Order online or speak to a member of Premier Hot Tubs to find out more our team of hot tub experts are on hand to help with your queries! . You can send all of your queries to sales@premierhottubs.co.uk or call us on 01603 45 45 45
Delivery of Goods to you
Orders placed on weekends or bank holidays will be dispatched on the next working day.
Our shipping options for this item are:
Evri economy delivery (3-5 days)
Express delivery (1-2 days)
We will deliver the goods ordered by you to the address you give us for delivery at the time you make your order.
We endeavor to dispatch all items within 1 working day, we rely on the postal services of DHL, Evri, and other couriers, in some small cases a delay can occur, and therefore we cannot guarantee 100% your item will arrive within the times stated so these are a guide only. If there is a delay the courier will always try to deliver the following day.
All our deliveries will be tracked and your tracking number will be emailed to you so you can track, rearrange and manage your delivery on the go.


Ask a Question
5kg Hot Tub Non-Chlorine Shock by Yourspa
£69.99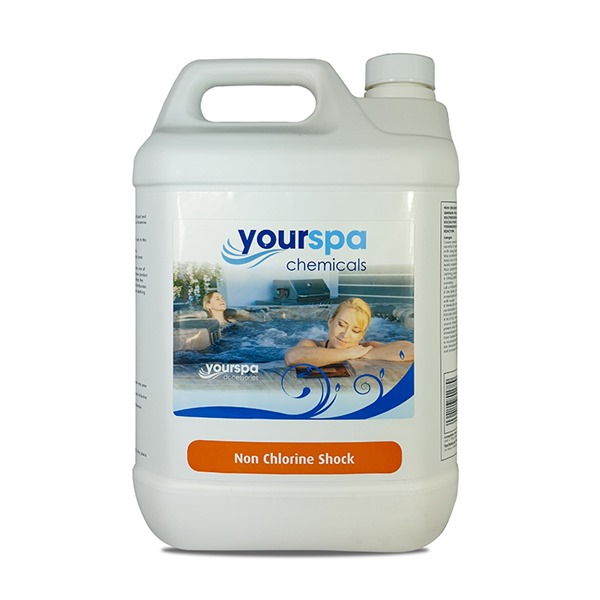 Request a Call
5kg Hot Tub Non-Chlorine Shock by Yourspa
£69.99