Balboa Control My Spa Ultra WiFi Module For Hot Tubs
This Hot Tub Wifi Module (Balboa Control My Spa) allows you to control your hot tub remotely! Simply connect to your phone, tablet or computer.



Anywhere, Anytime, Anyplace.

CONTROL YOUR HOT TUB FROM YOUR SMART DEVICE

ControlMySpa™ App with Alexa and Google intelligent voice control brings you the best in personal comfort and ease of use. Control the lights, set the temperature, activate the jets and so much more from your smart device! Now available with NEW features! The latest smart addition to your home. Now available for download on the App store for iOS® or get it on Google Play.

Note: To enjoy the new ControlMySpa™ features, please update the app to version 3.0. CMS™ is compatible with the BP Systems only.

Key features of this hot tub WiFi module:
Compatible with Amazon Alexa
Compatible with Google Home
Lighting Control
Enhanced Scheduling
Panel Lock Feature
High Range/Low Range Support
Ready/Rest Support

Introducing NEW features, designed to work with the innovative ControlMySpa™ app for your best soak yet!
New Chromazone3™ Lightning
Now you can take your lighting to the next level and easily surround yourself with relaxing, calm colors or energetic party light show. Now available through ControlMySpa™ on your smart device
New! Enhanced Scheduling
Easily manage scheduling anytime, any day of the week so your tub is ready when you are. Set the temperature, the mode and the range. It's the details that matter.
New! Panel Lock Feature
Prevent unwanted use or temperature adjustments. Locking the panel feature prevents the controller from being uséd, but all automatic functions are still active.
New! High Range/Low Range Support
Switch between High or Low in the temperature range settings. The water temperature can be set between 80° - 104° F (26.6° - 40.0 C) when the Temp Range is set to High or 50° - 99° F (10.0° - 37.2° C) when Temp Range is set to Low.
New! Ready/Rest Support
Be sure your spa is heated and ready to enjoy when you want to take a soak. Switch between Ready or Rest Mode from your smart device and keep the water temperature within 1° F (0.5° C) of the set temperature.
Not sure if this Hot Tub Wifi Module will work for you? Order online or speak to a member of the Premier Hot Tubs team to find out more. You can send all of your queries to sales@premierhottubs.co.uk or call us on 01603 45 45 45
Delivery of Goods to you
Orders placed on weekends or bank holidays will be dispatched on the next working day.
Our shipping options for this item are:
DHL Express Delivery (1-2 days)
We will deliver the goods ordered by you to the address you give us for delivery at the time you make your order.
We endeavor to dispatch all items within 1 working day, we rely on the postal services of DHL, Evri, and other couriers, in some small cases a delay can occur, and therefore we cannot guarantee 100% your item will arrive within the times stated so these are a guide only. If there is a delay the courier will always try to deliver the following day.
All our deliveries will be tracked and your tracking number will be emailed to you so you can track, rearrange and manage your delivery on the go.


Ask a Question
Balboa Control My Spa Ultra WiFi Module For Hot Tubs
£369.99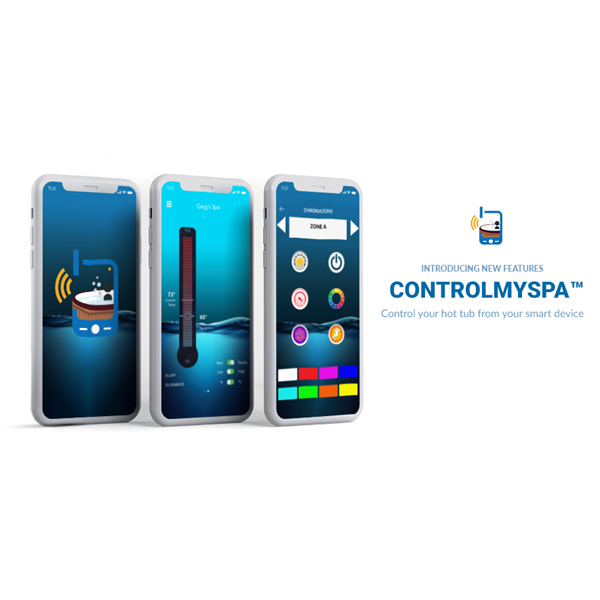 Request a Call
Balboa Control My Spa Ultra WiFi Module For Hot Tubs
£369.99