Griffon WDF-05 Solvent Cement Glue - 250ml
Griffon WDF-05 Solvent Cement Glue, for joining Rigid and Flexible PVC pipes on hot tubs, sockets and fittings.



Griffon WDF-05 Wet & Dry Fast Curing Cement-Blue

For joining Rigid and Flexible PVC and ABS pipes, sockets and fittings with interference fit and loose fit (gap filling) in pressure and drainage systems.

Cement has a slightly blue colour to give an easily recognised glued state of joints which is useful in large pipework installations, as it is sometimes easy to forget to glue a joint! Solvent cement for joining PVC and ABS (flexible) tubes, coupling sleeves and fittings in hot tubs pipework up to diameter 160 mm. Maximum pressure 16 bar for PVC, and 5 bar for ABS. Can be used in wet conditions, but not below 5° C.

Tolerances: diametrical clearance max. 0.8 mm / max. 0.2 mm press fit, rigid./ max. 0.3mm flexible pipe.

Specification:
Suitable for Wet and Dry Conditions
Extremely fast drying
For PVC and ABS
Gap filling
Blue in colour
For Flexible tubes (hoses)
For Hot Tub Installations
Brush included
According to European standard EN 14814
Once opened, the glue will have a reduced shelf life, so please ensure you replace the lid in between applications, to reduce the evaporation of the solvants within the glue, and usually use within 3 to 6 months once opened
Learn more about this fast drying plumbing glue for hot tubs today by contacting a member of the Premier Hot Tubs team by calling 01603 45 45 45 or emailing us at sales@premierhottubs.co.uk.
Delivery of Goods to you
Orders placed on weekends or bank holidays will be dispatched on the next working day.
Our shipping options for this item are:
Evri economy delivery (3-5 days)
DHL Express delivery (1-2 days)
We will deliver the goods ordered by you to the address you give us for delivery at the time you make your order.
We endeavor to dispatch all items within 1 working day, we rely on the postal services of DHL, Evri, and other couriers, in some small cases a delay can occur, and therefore we cannot guarantee 100% your item will arrive within the times stated so these are a guide only. If there is a delay the courier will always try to deliver the following day.
All our deliveries will be tracked and your tracking number will be emailed to you so you can track, rearrange and manage your delivery on the go.


Ask a Question
Griffon WDF-05 Solvent Cement Glue - 250ml
£14.99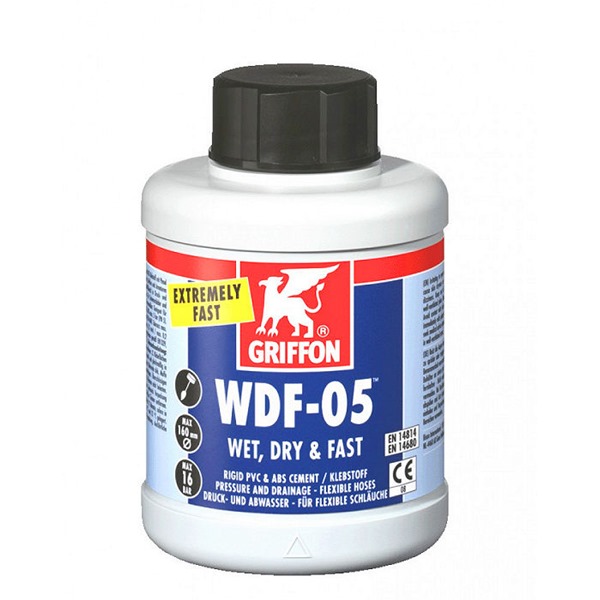 Request a Call
Griffon WDF-05 Solvent Cement Glue - 250ml
£14.99